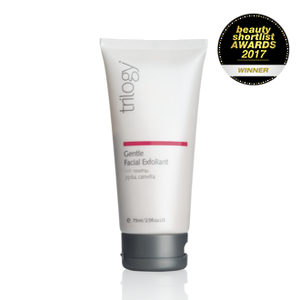 Trilogy's certified natural Gentle Facial Exfoliant gently polishes skin to remove surface debris and impurities to promote healthy skin renewal and a fresh, soft complexion. 

This ocean safe cream formulation includes active honey enzymes and camelia oil to help lift dead skin cells, non-abrasive jojoba microspheres to buff them away and pure plant evening primrose and rosehip oils to condition and assist healthy skin renewal. 

Suitable for all skin types. Regular exfoliation is important for all beauty regimes as it ensures maximum results from serums and moisturisers. 

Key Benefits:
Non-abrasive polishing action
Removes dead skin cells and impurities
Conditions and softens
How to Use:
Gently massage onto cleansed, damp skin using circular motions. Rinse with warm water and pat dry. User 1-2 times per week or as required.