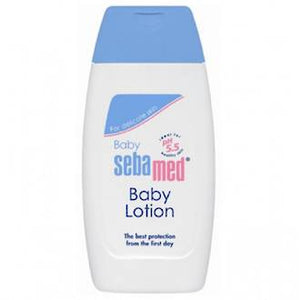 Healthy skin has a biological, slightly acidic surface, called the acid mantle. The delicate skin of a newborn is lacking this protective acid mantle, which is established during the first few months of life. Only if the skin has a pH value of 5.5 is it able to safe-guard against penetration of pathogenic micro-organisms and harmful environmental influences.
Baby Sebamed has been especially formulated to consolidate the resistance of baby's skin. Clinical testing has proven Baby Sebamed's ability to promote the build-up of the skin's protective acid mantle and stabilize its barrier function at its physiological pH value 5.5.
Safeguards baby's delicate skin against dryness, it's moisturizing and emollient complex with 7% lipids is rapidly absorbed without greasy residue. The active ingredients allantoin and camomile recutita extract counteract inflammation and irritation. Moisturizers enhance the skin's hydrolipid balance making it smooth and supple.