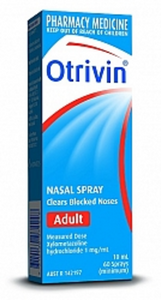 Customer Declaration: I agree to use strictly as directed and if symptoms persist or if I suffer any adverse effects, I will contact my Doctor or Pharmacist. This is a "Pharmacy Medicine". By ordering this product I acknowledge that I have read and understand the information regarding the product.
Blocked nose? Try Otrivin nasal spray/nose drops (for Adults). Otrivin is a nasal decongestant. It is effective in treating nasal congestion and provides quick relief from nasal discomfort due to colds, allergies and sinusitis
Quantity Restriction: Maximum of any 2 Otrivin variants per order. This applies to all variants of Otrivin. Anything over that will automatically be changed to 2.
Active Ingredients:

Xylometazoline hydrochloride 0.01%w/v.


Dosage:

Remove protective cap. To activate pump press the plastic bar towards the bottle several times until an even spray emerges. The pump is now primed ready for use.
To expel dose into nostril, press the bar down as above and the fine spray produced will effectively penetrate the nasal passages, thus ensuring uniform distribution of the solution over the nasal mucosa.
1 Spray in both nostrils, 2-3 times a day.


Warnings:

Prolonged use for more than 5 days is not recommended. Keep out of reach of children. Protect from heat. Discard one month after first opening.




Extended Information:

Please Note: Although the name of this medicine is a 'Pharmacy Only' Medicine, Pharmacy Direct treats it the same way as a 'Pharmacist Only' Medicine because this product has the potential to be misused or abused. There are restrictions placed on the quantity of this medicine that any one person can order from Pharmacy Direct. All purchase details will be recorded and stored. A pharmacist will authorise the sale of these medicines to you and ensure that the medicine is appropriate for the condition for which you are requesting this medicine. Please carefully read ALL the information we supply, and if in doubt consult your doctor.

MAXIMUM ALLOWABLE : 2 Packets - of any Otrivin Variant in total

Any quantity over that will automatically be adjusted to the maximum allowable.