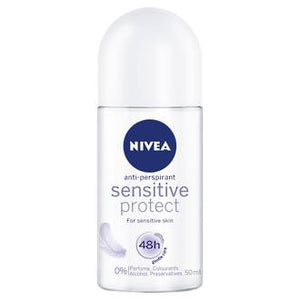 Sensitive
NIVEA Sensitive Protect Roll-On Deodorant is a powerful long-lasting roll-on deodorant, offering protection that has been specifically developed for sensitive skin. It offers:
48 hours of effective antiperspirant protection
Soothing chamomile extract and avocado oil
No ethanol, colourants or preservatives
Dermatological testing on sensitive skin
Powerful long lasting protection & skin comfort
This is the optimal combination of reliable antiperspirant protection and NIVEA mild care.
How it works
NIVEA Sensitive Protect Roll-On with chamomile extracts offers you the real confidence of effective 48-hour regulation of perspiration without irritation.