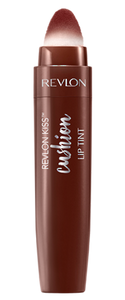 Plush tip for a lush lip! New Revlon Kiss™Cushion Lip Tint delivers a juicy wash of color with a soft cushion tip applicator in 10 kissable shades.
• The look of a stain and comfort of a balm.
• Infused with coconut oil so lips feel moisturized and smooth.
• Pillowy soft cushion tip gives a touch of color and builds for more impact.
• Juicy tint with a balm-like finish, dries to a blotted lip look. 
Application steps:
Step 1. Twist collar under the cushion to release the tint formula. 
Step 2. Wait a few seconds for the tint to saturate the cushion.
Step 3. Dab on lips for a tinted juicy look.