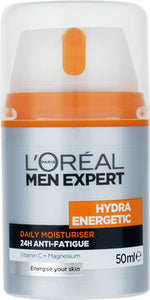 The first skincare line from L'Oreal Paris, exclusively for men. In the range, expert solutions for every skin type, including moisturisers, eye creams, cleansers and shaving products.
Hydra Energetic Lotion.
MEN EXPERT HYDRA ENERGETIC Daily Anti-fatigue Moisturising Lotion is a highly refreshing, non-greasy gel, with a quick break" texture that "melts" into skin on application. Enriched with a Vitamin C and caffeine-based energising cocktail.