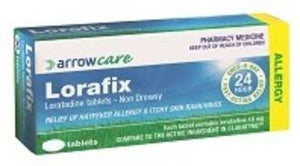 Customer Declaration: I agree to use strictly as directed and if symptoms persist or if I suffer any adverse effects, I will contact my Doctor or Pharmacist. This is a "Pharmacy Medicine". By ordering this product I acknowledge that I have read and understand the information regarding the product. 
Non-drowsy antihistamine for rapid allergy relief
Lorafix Tablets provide rapid 24 hour relief from the symptoms of Hayfever and Allergic Skin Disorders, including Hives.
Lorafix Provides Rapid Relief from: 
- Sneezing
- Itchy skin rash
- Watery, Itchy eyes
- Runny Nose
- Hives 
Active Ingredients:Each Tablet contains: Loratadine 10mg
Dosage:
Adults and Children Over 12 Years: One Tablet Daily
Children 2-12 years (Body Weight over 30kg): One tablet daily
Children 2-12 years (Body Weight UNDER 30kg): Half a tablet daily
Warnings:Lorafix is unlikely to make you feel drowsy, however use caution driving and operating heavy machinery until you know it wont make you drowsy. See medical advice if pregnant or breast feeding. If condition persists, please talk to your healthcare professional