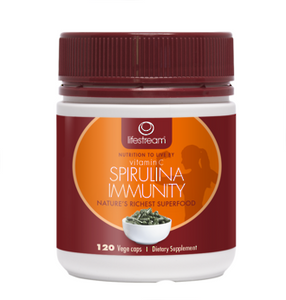 Lifestream Spirulina Immunity with vitamin C provides the combined benefits of two certified organic real food products of the Lifestream range- Spirulina and Acerola berries. Acerola berries are rich in naturally occurring Vitamin C and other natural nourishing nutrients, making this blend ideal for those who are looking for optimum immunity.
This combination boosts energy levels and supports a strong healthy immune system, especially through the ills and chills season. It is ideal for people recuperating, run down or under the weather.
Lifestream Certified Organic Spirulina contains high levels of phytonutients including minerals, protein, enzymes, carotenoids, iron, GLA, xanthophylls and chlorophyll delivered in a perfect blend by nature. It also contains the powerful enzyme Super Oxide Dismutase (SOD), which helps to reduce oxidative damage to cells.
Certified organic acerola berries are rich in natural vitamin C. This powerful little juicy berry is the natural alternative to synthetic ascorbic acid. They are harvested by hand at the peak of their potency in the certified orchards near the Brazilian rainforest. After a journey of only a few minutes the juicy berries are gently processed at low temperatures to preserve the Vitamin C along with the other nourishing nutrients from nature including enzymes, trace minerals, antioxidants, rutin and bioflavonoids
Lifestream Spirulina Immunity with Vitamin C:
100% Certified Organic

Spirulina

100% Certified Organic

Acerola Berry

Rich Spirulina source of carotenoids and chlorophyll
Rich source of vitamins, minerals, trace elements, phytonutrients and all 8 essential amino acids
Natural form of vitamin C which contains anthocyanin and bioflavonoids for optimum absorption
Ingredients
Spirulina Immunity Ingredients
Each capsule contains: 
Arthospira platensis (Certified Organic Spirulina) powder
450mg
Malpighia glabra (Certified Organic Acerola), standardised extract equiv. to fresh fruit
     Containing natural ascorbic acid (Vitamin C)
100mg
17mg
Also contains: Organic Tapioca starch, non orgaic capsule (hypromellose & water)
This product is vegetarian/vegan, GMO free, free from dairy, soy, wheat and gluten.
No added sugar, artificial colours or flavours.
Nutritional Information
Spirulina Immunity Nutrition Information
Avg. quanity:
per serve
per 100g
Energy
51kJ
1556kJ
Protein
1.9g
56.5g
     - gluten
NIL
NIL
Fat, total
0.2g
5.3g
     - saturated
0.08g
2.5g
Carbohydrate
0.8g
2.5g
     - sugars
0.1g
4.1g
Dietary Fibre
0.06g
1.8g 
Sodium
22.2mg
672mg
Vitamin C
101mg (253% RDI*)
3.1g
All values specified above are averages.
*RDI = Recommended daily intake
Directions for Use
Adults: 2-3 capsules, 2 times daily
Children (6-12 yrs): 1-2 capsules, 2 times daily
In acute health situation, you can increase the dose up to 3 times daily with guidance from your healthcare professional.
Note: If you are taking any prescribed medications we recommend you check with your healthcare professional before taking supplements.