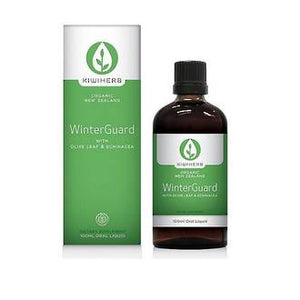 WinterGuard is a powerful immune formula to ward off winter ailments, and resolve persistent or recurring respiratory complaints.
Winter immune support
Persistent coughs
'Hard to shake' respiratory ailments
An expertly blended formula of certified organic immune herbs including Olive leaf and premium Echinacea root, combined with organic Manuka Honey and the proven respiratory herbs Ginger, Marshmallow, Mullein and Liquorice. Naturally flavoured with Peppermint & Fennel herbal extracts & natural orange & lemon flavour.
WinterGuard is a popular formula, suitable for adults and children over 6 years of age for broad spectrum immune support particularly during the winter months.
Brand
Kiwiherb
Ingredients
Each 5ml Contains: Echinacea purpurea root 770mg Olive leaf 500mg Kawakawa leaf 45mg Mullein leaf 45mg White horehound herb 37mg Elecampane root 37mg Ginger root 20mg Marshmallow root 12mg With organic Manuka honey and natural flavouring. Contains alcohol.