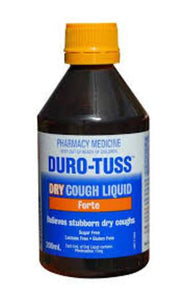 Customer Declaration: I agree to use strictly as directed and if symptoms persist or if I suffer any adverse effects, I will contact my Doctor or Pharmacist. This is a "Pharmacy Medicine". By ordering this product I acknowledge that I have read and understand the information regarding the product.
Duro-Tuss Dry Forte Cough Syrup - For the temporary relieve of stubborn dry coughs. Suitable for Diabetics. - Apricot Flavour
- Sugar Free
- Lactose Free
- Gluten Free
Active Ingredients:
Each 5ml contains Pholcodine 15mg.
Also contains: Methyl hydroxybenzoate, Saccharin sodium, Sorbitol.
Dosage:
Every 6 hours, Up to 4 times a day
Adults: 5mL

Do not use in children under 12 years of age.
Warnings:
Medicines have benefits and some may have risks.
Incorrect use can be harmful.
Pholcodine may cause drowsiness.
Always read the label.
Use only as directed.
If symptoms persist see your healthcare professional.