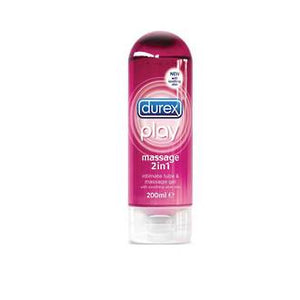 Please note this product's packaging is changing shape slightly and the formula will contain aloe vera. Your product may be the old or the new depending on stock supplies.
Ideal for the heat of the moment. Durex Play 2in1 Massage Gel is sensitive enough for all parts of the body and can be used as a massage gel.
Ideal for foreplay
Non greasy & non sticky
Water based lubricant
Pleasant taste
Contains Vitamin E
Flip top, easy squeeze bottle with the 'heat of the moment' in mind
Warnings
Avoid contact with eyes. If Irritation or discomfort occurs consult your doctor.
Ingredients
Aqua, Propylene Glycol, Hydroxyethylcellulose, PEG-6 Caprylic/capric Glycerides, Benzoic Acid, Tocopheryl Acetate, Sodium Hydroxide, Sodium Saccharin.