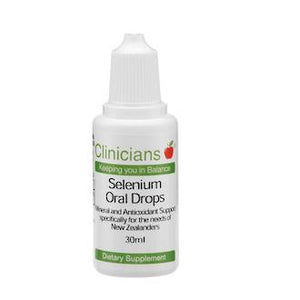 Selenium Oral Drops is a well absorbed liquid form of Selenium, offering mineral and antioxidant support specifically for the needs of New Zealanders as NZ soils are low in selenium content. Selenium is an essential antioxidant mineral that provides support for cell production and healthy immune function. Powerful antioxidant to support healthy immune and cardiovascular function and hair, skin and nail health.
Selenium also supports elasticity to help slow chemical aging.
Selenium also supports liver function, foetal development, and healthy neurotransmitter function.
Contains sodium selenate, a highly bioavailable and absorbable form of selenium. It is an effective antioxidant, especially when combined with vitamin E.
Individuals at risk of selenium deficiency are smokers, regular alcohol consumers and those not getting enough from their diets.
Selenium is also involved in supporting Thyroid hormone conversion and helps to produce coenzyme Q10
Formulated especially to address selenium deficiency in New Zealand diets. (In New Zealand, farm soils are deficient in selenium).
High potency selenium in liquid format for enhanced absorption
Oral drops ensure easy cost effective dosing
Suitable for most age groups
Suitable for use during pregnancy and breastfeeding