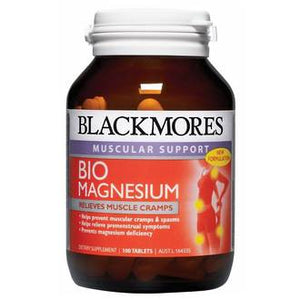 A formula which combines two forms of magnesium oxide and magnesium phosphate, as well as Vitamin D to promote magnesium absorption. Low levels of magnesium can cause muscles to stiffen or contract, resulting in painful cramps, twitching or even tremors. Magnesium also relieves premenstrual weight gain, bloating, breast tenderness and mood changes. Sufficient magnesium helps all muscles in the body to function optimally.
Dosage
Adults - Take 1 to 2 tablets daily with meals or as professionally prescribed. For children 6-12yrs - We recommend Blackmores Magnesium Compound. Children under 6yrs - Only as professionally prescribed.
Active Ingredients
Magnesium oxide - heavy 440 mg, Magnesium phosphate (equiv to total magnesium 300 mg) 175 mg, Calcium ascorbate 50 mg, Vitamin B6 (Pyridoxine hydrochloride) 50 mg, Vitamin D3 (Colecalciferol 2.5 mcg) 100 IU, Manganese amino acid chelate (Manganese 4 mg)
Storage & Disposal
Store below 30°C in a dry place, away from direct sunlight.
Warnings
WARNING - This product contains Pyridoxine hydrochloride which may be dangerous when used in large amounts or for a long time. Pyridoxine-induced peripheral neuropathy is most commonly reported with doses of 1g or more daily, taken for 2 months to 3 years. If symptoms persist, see your healthcare professional. Always read the label. Use only as directed. Blackmores Bio Magnesium may interfere with certain other medications you may be taking. For more information, visit http://www.blackmores.com.au/medicine-interactions#biomagnesium