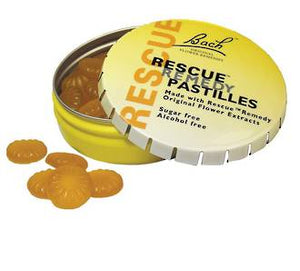 Relieves feelings of stress, agitation, anxiety, nervous tension and despair and provides a sense of focus and calm. Made with Rescue® Remedy Bach� Original Flower Remedies. Natural colour, natural flavour, non habit forming.
Directions:
Chew one pastille as required.
Ingredients:
Bulking agents (sorbitol, isomalt), gelling agent (gum Arabic), natural flavour (elder flower, orange), sweetener (xylitol), glazing agent (vegetable oil, beeswax), flower essences (Helianthemum nummularium, Clematis vitalba, Impatiens glandulifera, Prunis cerasifera, Ornithogalum umballatum (Rescue� 4%)).
No sugar and alcohol.
Cautions & Warnings:
Keep out of reach of children. May contain traces of gluten. Excessive consumption may induce mild laxative effects. Use only as directed. If symptoms persist, consult your healthcare professional. Always read the label. Important Store below 25