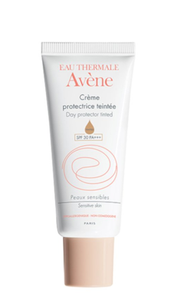 Day Protector Tinted BB Cream SPF 30 is subtly tinted to suit most skin complexions, hydrates sensitive skin, provides soothing relief and daily protection from external stresses thanks to: 
- Avène Thermal Spring Water, to soothe discomfort.
- SPF 30 photoprotective system which protects the skin from the harmful effects of UVB and UVA radiations.
- A combination of mineral pigments and brightening pearls to unify the complexion and instantly correct color flaws.