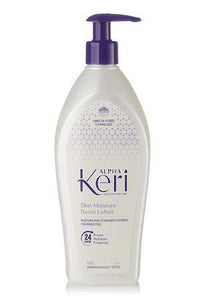 Product Description
ALPHA KERI LOTION is an all over treatment for dry skin. It contains rich lubricating emollients which replace lost moisture in the skin, and form a protective barrier to prevent further moisture loss. Its highly concentrated oil-in-water formulation will help relieve the itching associated with dry skin. The pH level of Alpha Keri does not interfere with the normal acid nature of the skin.

INDICATIONS:
For relief following the recovery of dermatoses where skin is dry, scaly, ichy and lichenified. Also beneficial for shaving rashes, after sun exposure and when skin has been encased in plaster of Paris.

Infants and babies: For relief in atopic eczema, eczematous dermatitis, nappy rash, millaria, as a sequel to measles and chickenpox.

Elderly: Ideal for naturally occurring dry skin.

Apply as often as needed to soften and smooth dry skin.

Always read the label. Use only as directed.
If symptoms persist, see your doctor/healthcare professional.
Directions
Use as often as needed, especially after showering/bathing. Particularly beneficial for relieving sunburn. Richly formulated so that a little goes a long way.