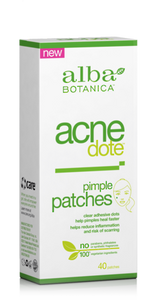 on-the-spot solutions
When a big, irritating pimple has got to go, stick on one of these little dots and let it work its magic.  Each remarkable patch draws fluids and oils out and away from the skin to help reduce inflammation while the tight seal keeps skin moist to encourage faster healing and reduce risk of scarring.  Non-drying treatment is focused directly on the problem while an occlusive barrier helps keep bacteria out and prevents touching, picking and popping. Invisible patches disappear on skin and stay in place even while you sleep.
dermatologist tested
free of rubber latex
Clean and thoroughly dry hands and pimple area. Place one acne patch over pimple and gently press edges to seal. Leave on for one to eight hours. To remove, wash and dry hands, then grasp edge of acne patch and stretch until it releases from skin. Clean and dry affected area.