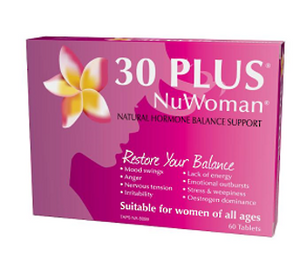 30 PLUS NuWoman Natural Hormone Balance Support 60 Tab
 is a natural supplement formulated especially for women who are experiencing symptoms related to hormonal fluctuations or imbalances associated with PMT.
30 PLUS® NuWoman® may be of assistance for the relief of the symptoms of PMT.
A large number of women experience varying degrees of the symptoms of PMT, which can happen from when they begin to menstruate through to the menopause.
Symptoms of PMT include: mild anxiety, mood swings, nervous unrest, feelings of stress, irritability, emotional instability, difficulty concentrating, breast pain, feeling fatigued and tense, menstrual cramping and menstrual pain. These symptoms may be present throughout the menstrual cycle, or immediately before menstruation occurs.
Directions
2 tablets per day. One in the morning and one in the evening or as prescribed with meals.
Use only as directed and consult your healthcare professional if symptoms persist. Vitamins can only be of assistance if the dietary vitamin intake is inadequate. No added starch, gluten, yeast, salt or artificial colouring.